Group DELTA TECHNIKI – Strong & Reliable
Everything derives from our Values. They are reflected in our actions, in our words.
These exact values were in the spirit of our company's founders and continue today to inspire all our Employees.
Activity Areas
After its reorganization, the Group has focused in the following subjects:
Development of EPC "turn key" activities as main contractor of power stations from RES (design, selection of equipment & construction)
Provision of integrated services and products for energy saving in the buildings sector focused on the technology of heat pumps. 
Development of a proprietary portfolio of renewable energy projects by the Group's subsidiaries.
Development of tourism investments
Sunsidiaries
The Group has allocated its activities to subsidiary Companies. DELTA TECHNIKI SA, as the "mother" company, maintains the full control.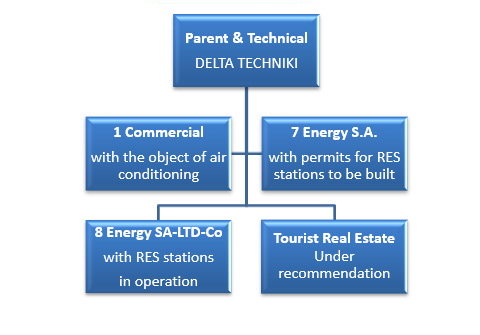 Organization Chart
The organization of departments and the Group's activities in more detail, the control and the hierarchy are shown in the following organization chart.